Every Block You Touch Turns Into
Addons for Minecraft PE
This addon is inspired by a lot of java data packs and mods that make you convert all the blocks you touch into other, like bedrock, diamonds or tnt. I really like this idea, so I decided to make it for minecraft bedrock edition!
With the addon the solid block that is below you will turns into another. This doesn't include: lava, water and air (obviously); doors, trapdoors, fences, slabs, stairs and othe non-solid blocks (because is weird for an incomplete block to fill in by itself and you can also get trapped); and blocks for other addons. (Sorry, I didn't find the way to do it. If you have an idea to make it put in the comments please)
You can choose before the game what type of block do you want them to turn into: bedrock, diamond blocks, diamond ores, iron blocks, iron ores, gold blocks, gold ores, emerald blocks, emerald ores, netherite blocks, ancient debris, stone, netherrack, sand, TNT, obsidian, quartz blocks, glass, sandstone, nether wart blocks, dirt, grass, bricks, nether bricks, oak logs and oak planks . I will add a lot of options more in the future, but these are the ones for now. 
If you also have ideas for the options, the programing or you find a bug in the addon, put it in the comments!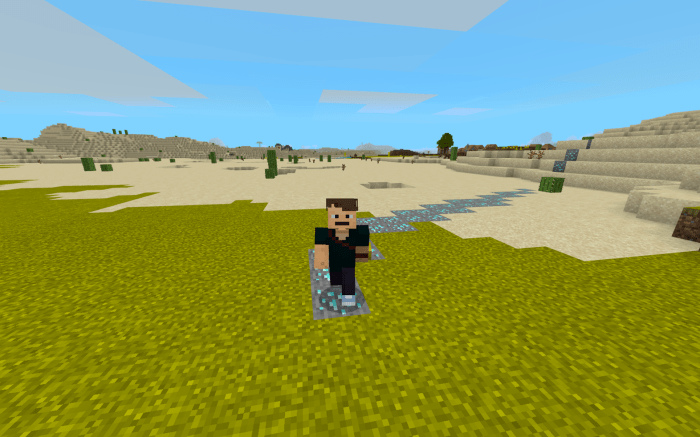 Installation
To install the addon click in the .mcaddon file to load it in you minecraft. If this doesn't works, use the .zip file.
Downloads
Information
Users of Guests are not allowed to comment this publication.