SCP KP (The Epic Update (V3.7) (Includes Unity SCP's)
Addons for Minecraft PE
Welcome! To the SCP KP addon! Here we have many SCP's, blocks and more! This includes probably some of your favorite SCP's! Maybe you could suggest some SCP's! The new links are under the old links. The change log shows what has changed in the updates. Please credit this would be appreciated. In order for everything to work turn on everything in experimental.
This took a few months  to work on. Please I tried my best this might be the 3rd Scp add-on ever? ||
 CREDIT ME IN YOUR VIDEOS IF YOU USE THIS ADD-ON!!!
—|| If You Have Any Questions Please Tell Me In The Comments Any Help Would Be Appreciated. ||—
WARNING ||
AFTER THE ADD-ON UPDATES THERE MAY BE SOME BUGS. PLEASE REPORT THE BUGS IN THE COMMENTS ||
ALL VERSION 3.74 UPDATES ARE IN THE CHANGELOG FIND THE V3.6.4 LINKS UNDER THE OLD LINKS
Before you read every Scp down here I want to let you know that I made this add-on to entertain users and let them have fun. Just wanted to let you have a new Scp add-on coming to your way
SCPS 
SCP-003 || Euclid || Biological Motherboard


• A board which will kill you.
• Effects: None
• Euclid SCP
• Kills you in 2 hits. Or maybe with armor, more hits.
SCP-173-U || Euclid || The Unity Sculpture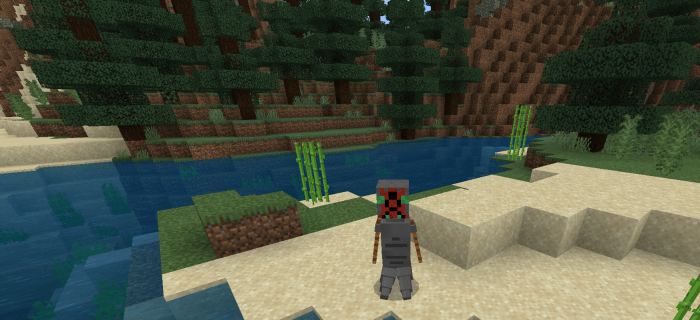 • Really fast, has a lot of health, only way to kill it is by the telekill sword.
• Effect: None
• Euclid SCP
SCP-066 || Euclid || Eric's Toy


• It is very LOUD when hit, makes sounds, does not do any harm.
• Effect: None
• Euclid SCP
• Just don't let anything punch it.
SCP-2107 || Euclid || Diet Ghost

• Killing this SCP gives you the item. Using the item summons in a ghost which will kill you.
• Effect: Blindness
• a ghost gets summoned from a soda?
Ghost: 

SCP-109 || Euclid || Infinite Canteen

• When killed, will drop 109, it will keep coming back if you keep drinking it.
• Effect: Nausea 3 Seconds
Euclid SCP
• Free water!
SCP-127 || Safe || The Living Gun

• You can get it by killing it. It is a gun but it's actually alive. Shoots out teeth.
• Effect: Weakness
• Safe SCP
Huh, why is the gun moving?
SCP-617 || Euclid || Pet Rocks

• Rocks which will hurt anything if it isn't tamed. (You can feed it anything that is food in minecraft)
• Effect: None
• Euclid SCP
• What?? Alive Rocks?
SCP-059 || Keter || Radioactive Mineral

• Minerals, but they can kill you when you touch them.
• Effect: None
• Keter SCP
• Well, I can walk right pass!
SCP-2287 || Safe || Mr. Headless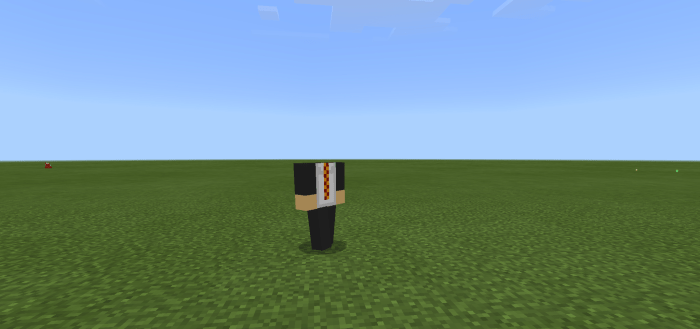 • Mr. Headless is made by Dr. Wondertainment. His name is what he is. He does not have a head.
• Effect: None
• Safe SCP
• Uh, why don't you have a head! 
SCP-485 || Safe || Death Pen

• This SCP is a pen, but when you kill it, it drops the pen. Holding the pen will kill you. So watch out!
• Effect: Death
• Safe SCP
• I wonder why there is a random pen lying around!
SCP-207 || Safe || Cola Bottles


• Cola Bottles, will make you fast when you drink it! (Effects Don't Last Forever)
• Effect: Fatal Poison, Speed
• Safe SCP
• That cola tasted great!
SCP-553-U || Safe || Crystalline Butterflies
• Butterflies that will attack you in groups. huh..
• Effect: None
• Safe SCP
• These are not butterflies!
SCP-309 || Euclid || Plush Toy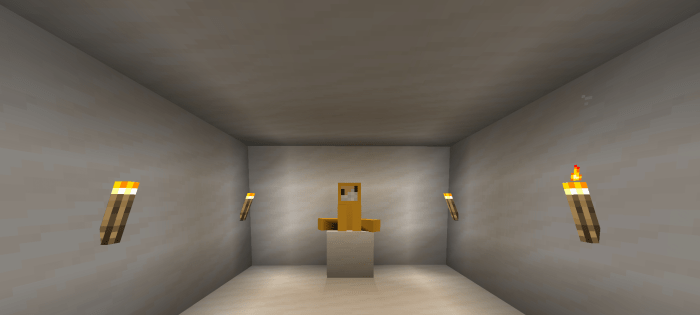 • A plush toy that will make you insides go out! Scary right?
• Effect: When Placed, You will get fatal poison
• Euclid SCP
• What!? This plush toy has power!
SCP-002 || Euclid || The Living Room

• There are 3 blocks and a couple of furniture for this. Protected Block (Gray Block shown in the image) 002 Working (Block shown in the image) and 002 prop block (Won't cause any affects)
• Effect: Fatal Poison
• Euclid SCP
• This is really a living room!
Ducks

• Includes, Saxophone Duck, Roomba Duck, And Dapper Duck!
• Effect: None
• Some have a custom model some make sounds.
• These are good ducks! Happy they are staying!
Class-D

• Class-D will be used to test, but possibly may not work. Punching the class d or getting the hurt might be a bad idea, he will try and start to attack you. Does not deal that much damage.
ITEMS
COOL CRAFTING RECIPES
This is the overpowered eye it gives you extra hearts and does a lot of damage to mobs when hit gives you night vision speed and health boost forever.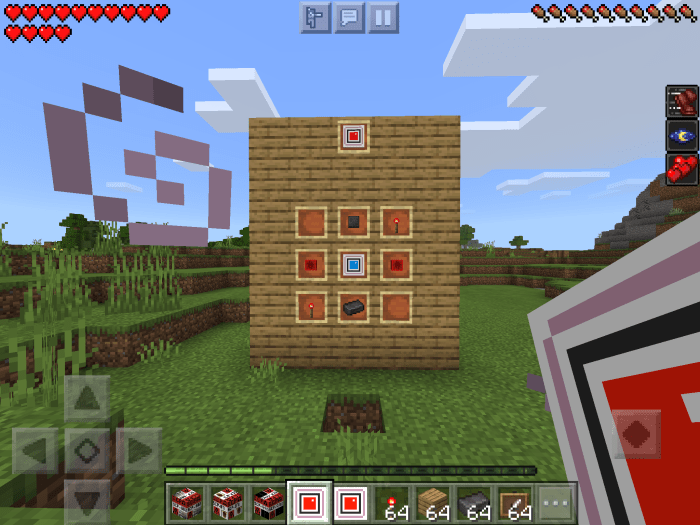 This Is The Ice Sword It is useless but it is kinda cool you can get ice from SCP 548 by killing it to craft an ice sword with a NETHERITE sword not a stone sword do not craft it it is useless!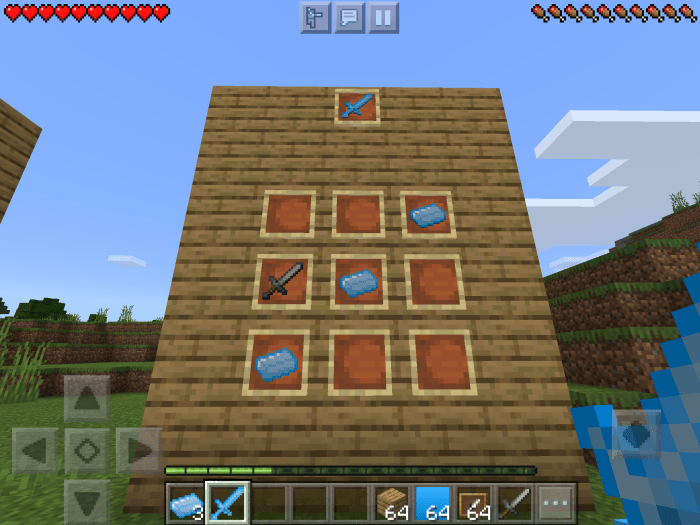 Guns


There is currently 1 gun in the addon and it is the pistol I will add a new update soon with sounds and more bug fixes.
Radios


Hold them to play the radios use this command to get the radios
/give @s cc:radio_1
/give @s cc:radio_2
/give @s cc:radio_3
The Yellow Radio Plays (Rocket Waltz)
The Red Radio Plays (Fire And Thunder)
The White And Black Radio Plays (We Gotta Run)
The Radios Actually Play Music.
BLOCKS
Posters:there are 10 posters currently in the add-onSCP-999 Poster, 914 Poster, 426 Poster, 055 Poster, 131 Poster, 058 Poster, 457 Poster, 096 Poster, 294 Poster, And 173 Poster!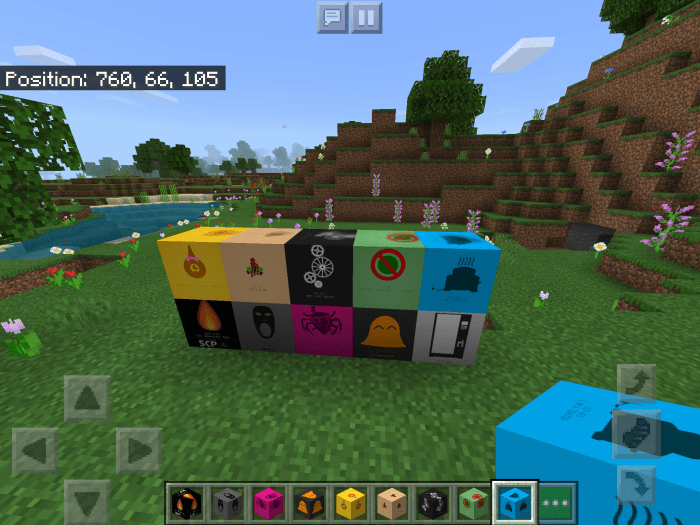 SCP LABELS: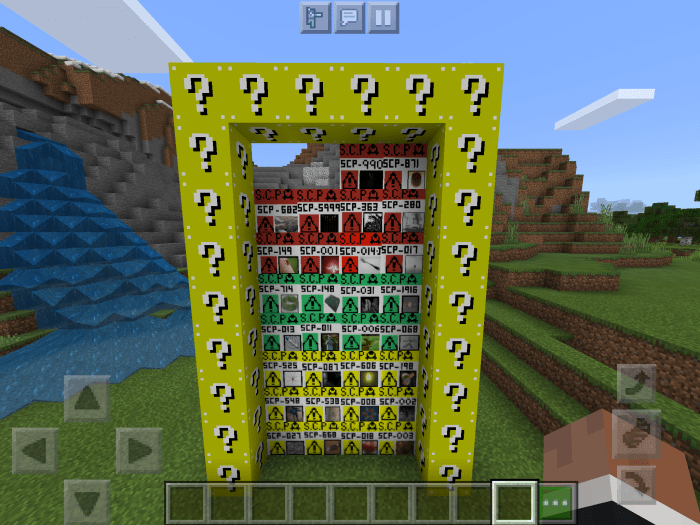 Cool Textures
SCP BLOCKS: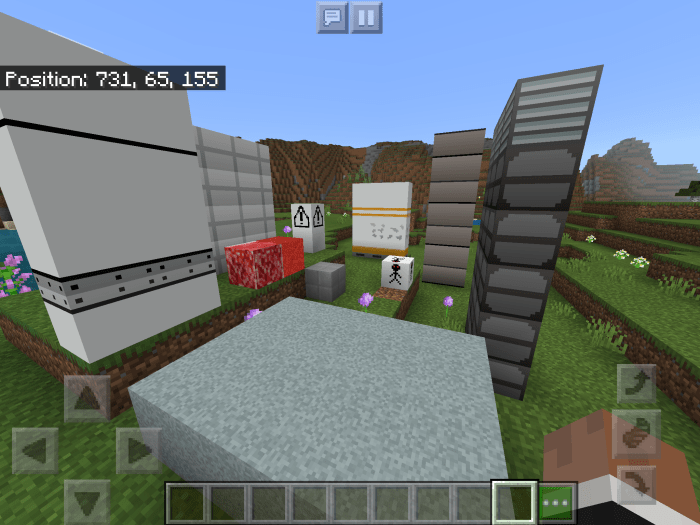 this is all in the add-on currently! SCP 3000 is in the add-on but I want to delete him cause he is already added in the js Edition I do not want to get a copyright strike. 
This also includes mystery Blocks
SCP Blocks Are The SCP-002 Flesh (does not work but replace the floor with magma blocks) SCP-610 Flesh, AND SCP-011 Stone
last Updated Video Down Here (this is not the latest updated add-on when it is V3.7 there will be the new update and video
Installation
If you have iOS 13 then make sure you have files and documents by readle! Download the add-on then go to files. Click the three dots then move it to documents by readle! After you do that go in documents by readle and then find the add-on and click the three dots again. Share it to Minecraft and now you are done!
Just Click The Media Fire Link To Start The Installation
———————————————————————————
if you have iOS 12 then just click the link download it and go to files and share it to Minecraft
Supported Minecraft versions
1.16
1.15 (beta)
1.14
Information
Users of Guests are not allowed to comment this publication.