School Equipments Addon
Addons for Minecraft PE
Now you can relive your days at school with this addon while on home quarantine. It's past the middle of our school life this year! On normal days, we'd probably be coloring our lives by going to school and hanging out with friends right after. The School Equipments addon gives you common items found in a school.
There are 17 items in this addon:
• Teacher's Chair
• Student's Chair
• Swivel Chair
• Air Conditioner
• 2 in 1 Green and White Board
• Stack of books
    - serves as design
• Teacher's Table
    - has inventory
• Student's Table
    - has inventory
• Study Table           
    - has two textures
    - has inventory
• Study Table Set
    - has inventory
• Room Shelf
    - has inventory
• Locker
    - has inventory
• Table lamp
    - can be switched on/off
• Laptop
    - has opening and closing animation
________
I made a merge of this two:
• Teacher's Table and Chair
• Student's Table and Chair
to avoid the lagging when too many entities are place in the same place.
Here is a video that shows you all the equioments:
I am suppose to upload this on the first week of october but there are items that needed more details into their data so it somehow kept getting delayed. I remove them for the mean time but I personally think those items are amazing and I will be adding them in the coming days so look forward to it. I also encourage all of you to post your suggestions relating to items found at school down below, that would be really great, guys! However, it would be more convenient for me to see and reply to your comments in my videos on my youtube channel so I hope you guys can take the time to subscribe, I'm finding ways to make it better.
I only have a vague idea for this before so thanks to a subscriber in my YT Channel for suggesting a detailed description of what items to put.
Also, I am making a map of school with this addon though it only constitute a room as of now. Take a look: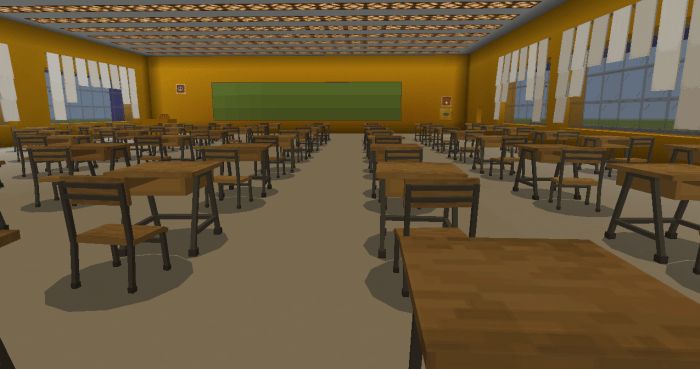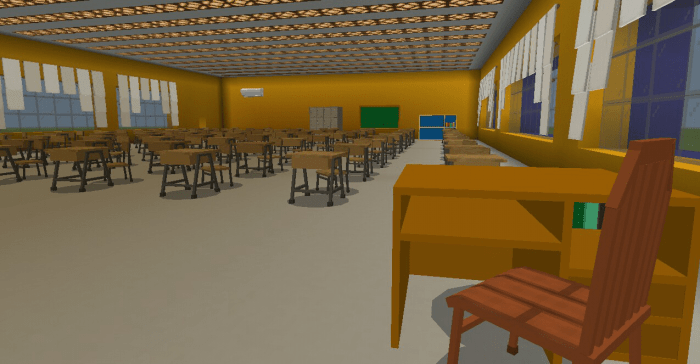 If you have any suggestions of facilities to add, do comment it down below as well.
Thank you so much for the good feedback and for downloading my Laundry Set and Musical Intruments addon, I may not be able to reply to your comments there but I've seen your suggestions and I will be updating them very soon. Hope y'all find the time to subscribe to me here at mcpedl as well.
I hope you enjoy this. Have fun!
Note:
*Do include a link to this addon if you are going to feature this
*Do not post a direct link without my permission
Supported Minecraft versions
1.16.100
1.16.210 (beta)
1.16.201
1.16.200
1.16.101
1.16
1.15 (beta)
1.14
Information
Users of Guests are not allowed to comment this publication.