Dark Wizard Boss Add-on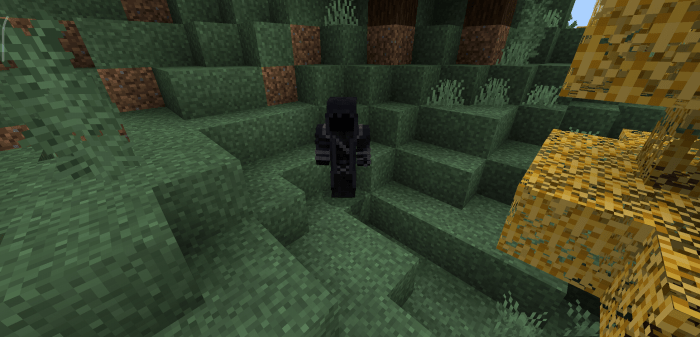 Addons for Minecraft PE
For a long time i have wanted to fight against a humanoid boss in Minecraft and also have an exciting, long, fun and challenging fight, i did not find anything so then i develope it.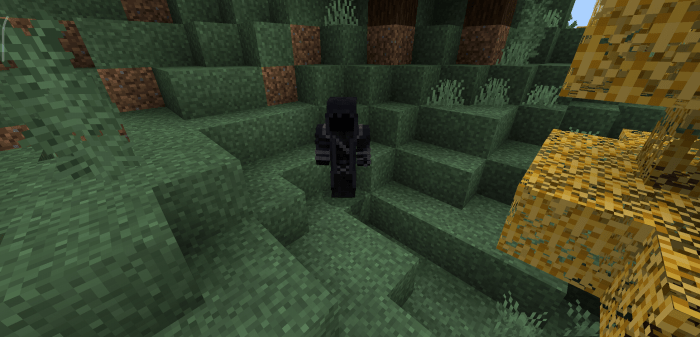 Legend has it that many years ago, a man appeared unconscious on a coast near a village, when he woke up he was confused and had no memory, but after a few minutes. Although he was shorter than the inhabitants of the village, he had great strength and enormous courage, he joined the village, helped it grow and prosper, defended it from zombies and illagers, he was undoubtedly an exceptional warrior.After a few solar cycles, a woman appeared on the same coast, she was red-haired and showed to have a courage and strength equal to that of that mythical warrior, her arrival was very good for him, he was no longer alone and together they defended the village like the strongest warriors ever.But one day the warrior began to have memories of his past life and became obsessed with going home. During an assault on a witch's house, she told them that she knew how to make them return to their dimension, she told them about the portal and that to return home they had to kill the dragon that dominates the end.Both began a crusade to travel to these dimensions, they opened a portal to a hellish place and found a material more resistant than any other seen, they made weapons and armor full of power and they left to look for the mythical dragon, several seasons passed and one day only the warrior returned to the village, gaunt and sad with a black egg in his hands. His partner had been consumed by magic facing the dragon.Since then, that warrior dedicated himself to traveling between dimensions, learning the dark arts, he became a legend over time, a dark specter of the forests that everyone knows, but that no one has seen again.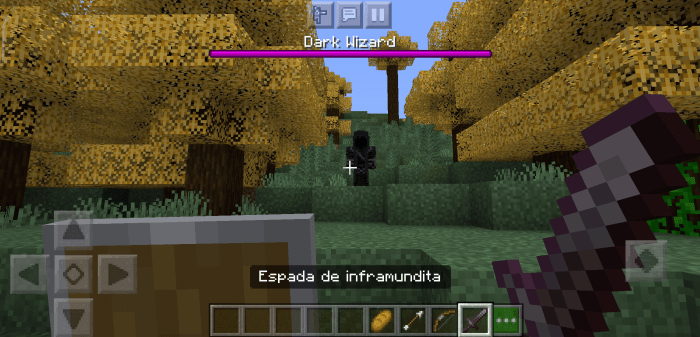 I wanted to invent a story for this add-on I hope you liked it :)
This boss can be found at night in the tundra forests, he has enormous resistance and surprising attack speed, has good teleportation skills and attacks with large fireballs.
I do not recommend fighting with him near a house, because he can easily destroy it, in fact if you fight with him too long, he could reduce a good portion of the forest to ashes.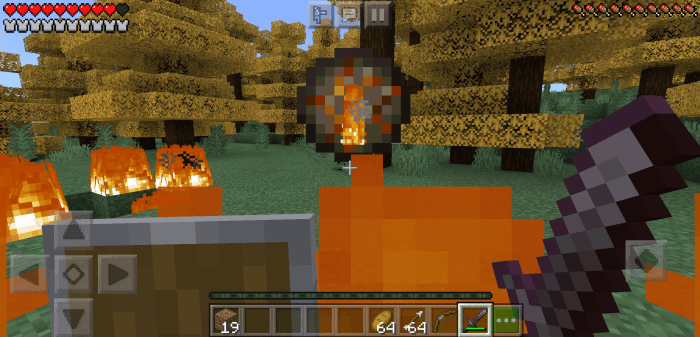 Fighting against him is very fun because you will have to find a way to hurt him according to the distance, attack him with arrows if he is far, return the fireballs if he is at a medium distance and attack him quickly with a sword if he is very close, he will teleport often so you cannot corner him with a single type of attack.
Installation
Once you have downloaded the behavior and resource mcpack files, open each one with Minecraft and it will do the rest.
If you download Full link, just open the mcaddon file with Minecraft and it will install itself.
The ZIP link is for manual installation by copying and pasting folders.
Remember not to click or touch any of the ads.
Una vez que hayas descargado los mcpack de comportamientos y recursos ábrelos uno por uno con Minecraft y éste hará el resto.
Si descargas el enlace Full sólo abre el archivo mcaddon con Minecraft y se instalará automáticamente.
El enlace ZIP es para instalación manual mediante copiado y pegado de folders.
Recuerda no dar clic ni tocar ninguno de los anuncios.
Do not republish this addon as your own or modify it's contents without my consent. If you are going to review or publish this add-on elsewhere, don't make your own links, use the link to MCPEDL and always give credit to me, you can find my social media and channels on my profile.
Supported Minecraft versions
Downloads
Information
Users of Guests are not allowed to comment this publication.