Endcreased Addon (NEW V3 UPDATE)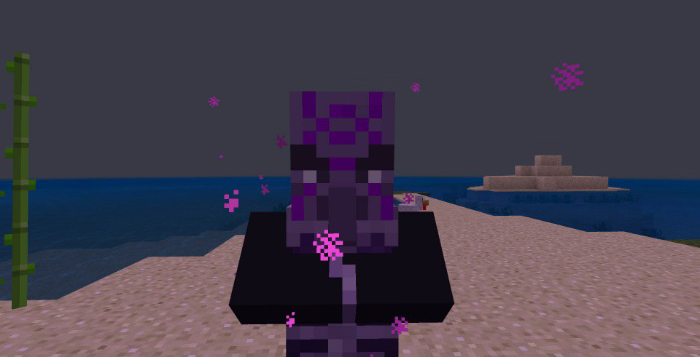 Addons for Minecraft PE
The End Dimension has been long overdue for a new update for a while, I decided to change that! This addon improves the End Dimension by adding new blocks, mobs, items, and even structures.
The End Dimension has been long overdue for a new update for a while, I decided to change that! Today I've updated my Endcreased addon which adds new mobs, items, structures, and blocks! Down below you'll find everything to know about the addon what is possible with it!
The Features
The 
Endruid
is a mob that's the End version of the Evoker, it can spawn new End mobs and Fangs.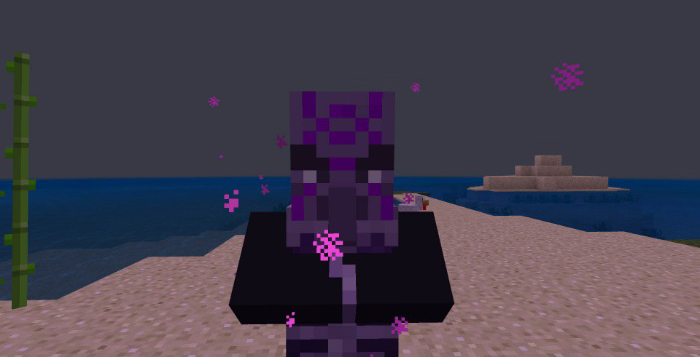 To summon him, you'll need to find the Endruid Tower which will contain the Endruid Stutue. Interact with the statue by giving it the Endruid Totem then the summon will begin! The Tower also contains some really great loot for your journey!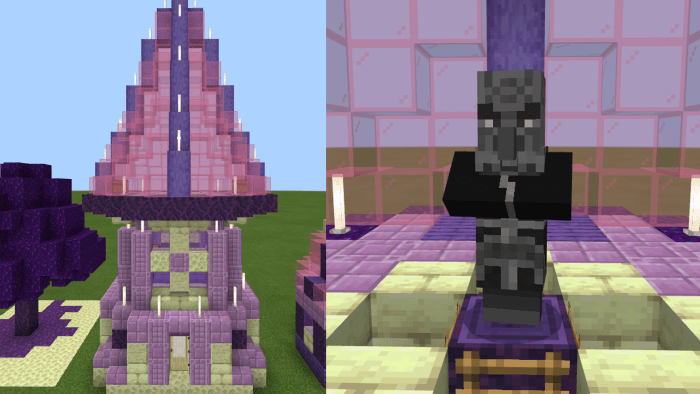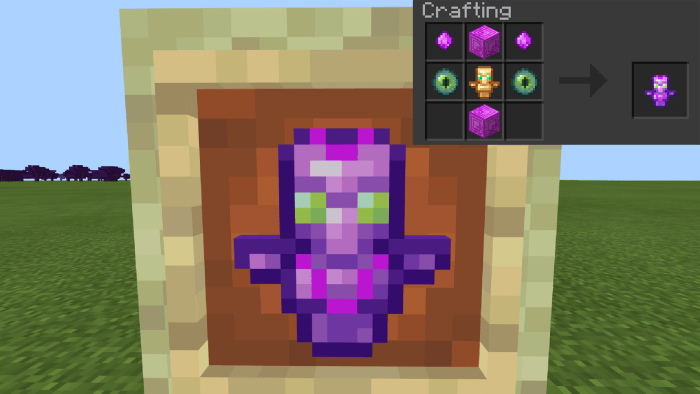 The 
Endereye 
will fly around the End and shoots levitation bullets at you. He even has a nice blinking animation!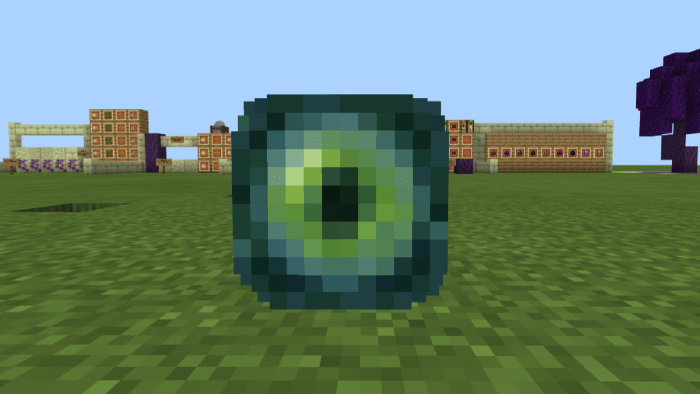 The 
Shulk
is like an Iron Golem in which it's a big brute and hit's hard, oh and it hates monsters.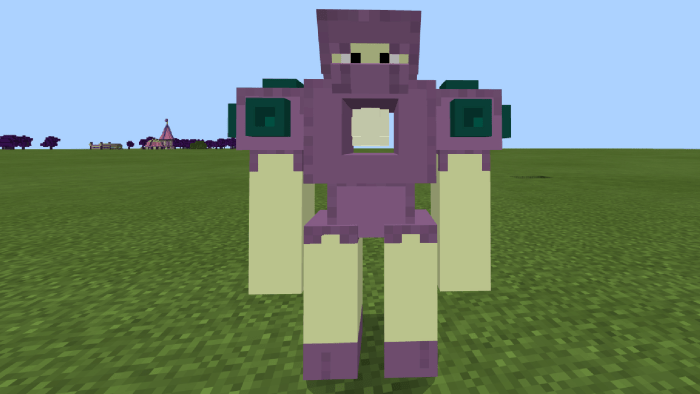 The 
Shulkhead
is a shulker without a shell and hops arounds like a slime.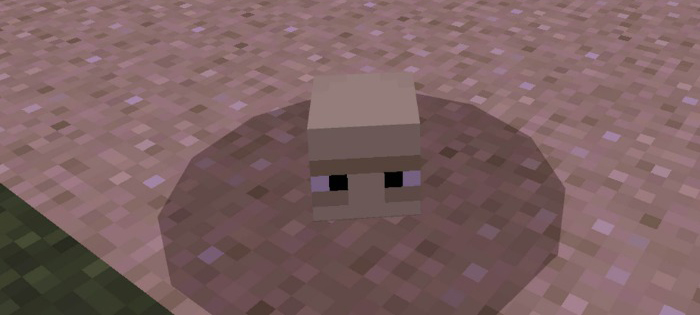 The 
Enderloc
will act as a mode of transportation, to tame it simply keep hopping on it like a horse. You can even put a saddle and a ender chest on it!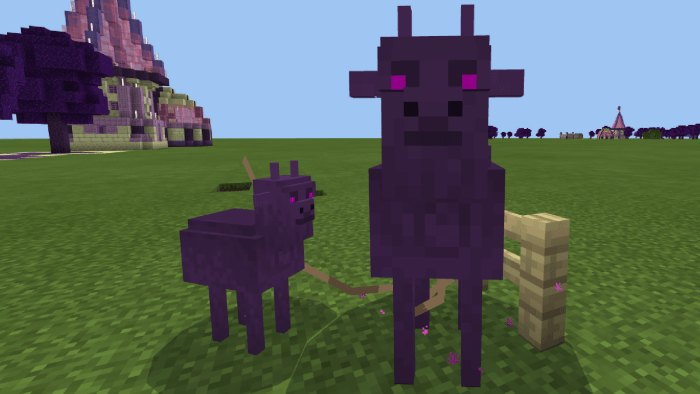 If killed they will drop in enderhide, You can make purple beds with 3 of these, instead of purple wool just use this. Additionally they will also drop raw enderloc meat but however you can not cook it.
To breed or heal them, you can use the following:
Carrots
Golden Carrots
Apples
Golden Apples
Chorus Fruit
Golden Chorus Fruit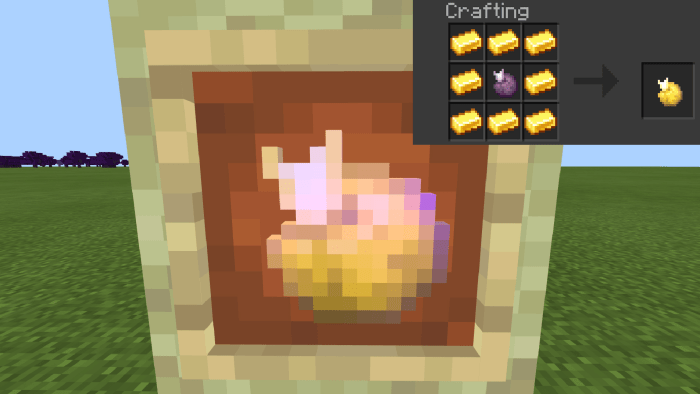 The 
Ender Phantom
is just a normal Phantom that spawns in the End after a few day's of not sleeping.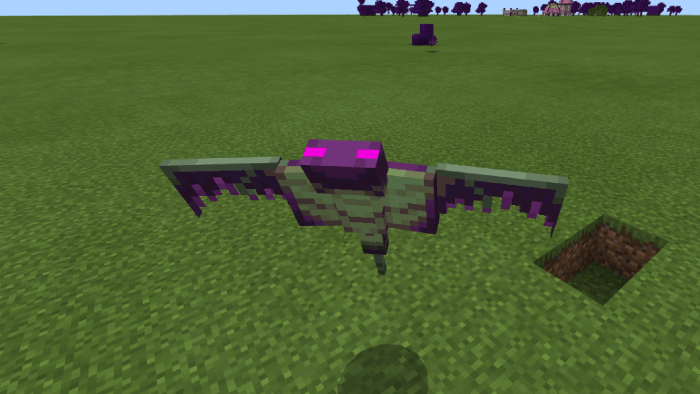 The 
Flying Shulker
can fly around and shoot levitation bullets at you, he's also dyeable with the available 15 colors!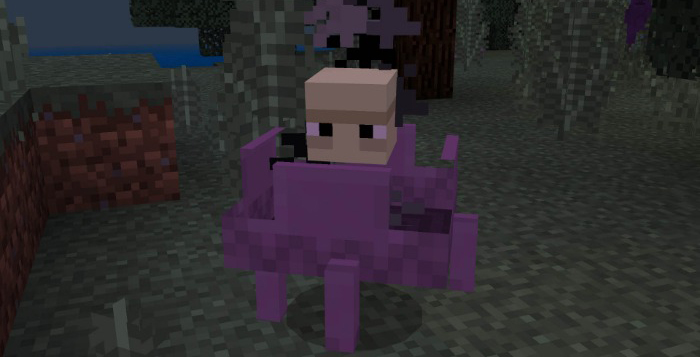 The 
Ender Merchant
allows you to trade for anything from the End Dimension. He is found in a hut found around the End Dimension.
To make the trades, you'll need to mine a new ore called 
Endmethyst Ore 
which is quite common in the End Dimension!
Due to a Minecraft bug, both the Ender Merchant and the endruid won't spawn in their structures.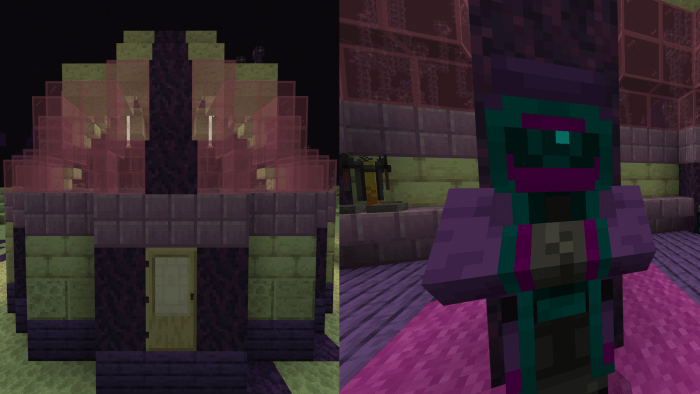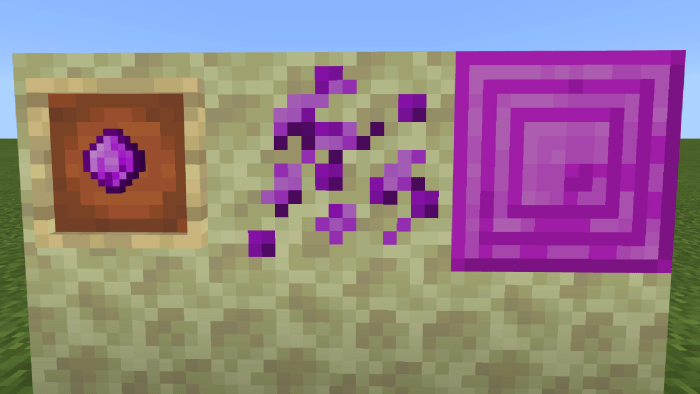 New Endstone
To craft, put normal endstone in a stonecutter.
Polished Endstone
Smooth Endstone
Polished Smooth Endstone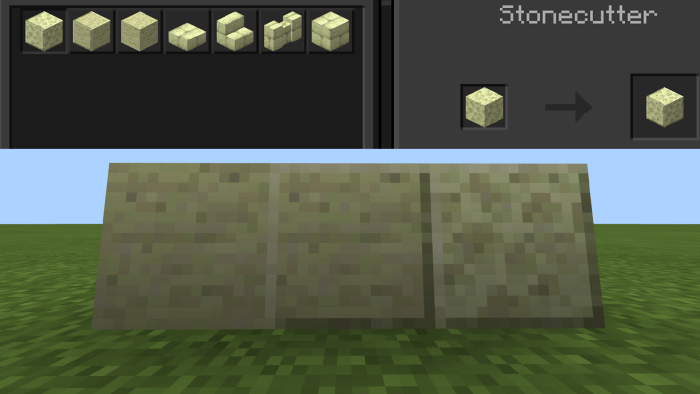 Mossy Endstones
Mossy Endstone
Mossy Endstone Bricks
Mossy Smooth Endstone
Mossy Polished Endstone
Mossy Smooth Polished Endstone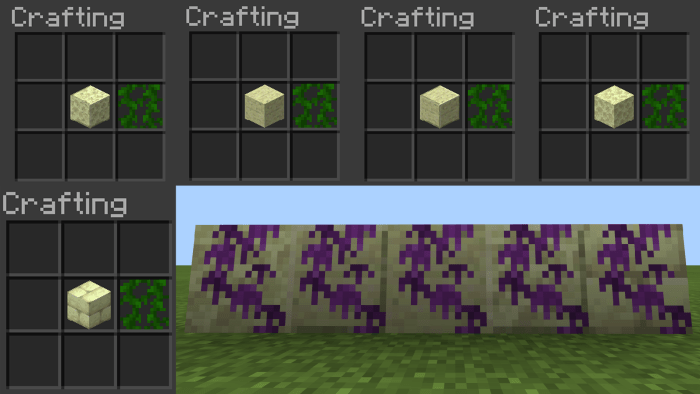 New Wood Type
I added a new tree to the game called the chorus tree, this tree also comes with its own wood type. Anything you can make with regular wood you can make with this. If you want the strip the wood, just use an axe.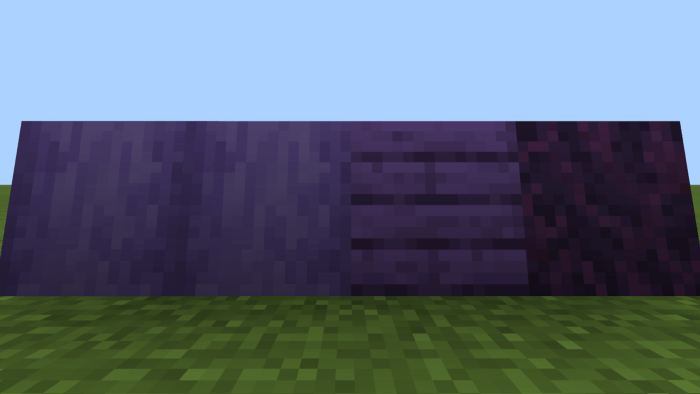 Chorus Block
The block on the top of the trees can drop a new sapling called the chorus sapling and can grown with bonemeal. There's also the chorus fruit block which is a compact way to store chorus fruit. The block is crafted with 9 chorus fruit and turned back into chorus fruit!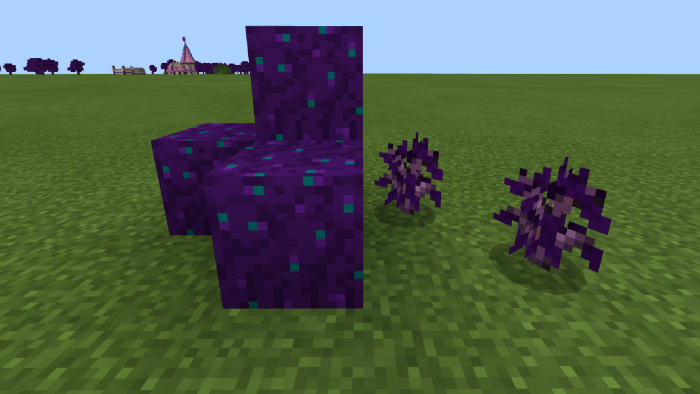 Small Features
Baby Enderman can spawn in groups of Enderman now.
VERSION 3 FEATURES
This update adds tons of new blocks, new changes, and items.
First off I added a new tree to the game called the endows tree, this tree also comes with its own wood type. Anything you can make with regular wood you can make with this. If you want the strip of the wood, just use an axe. There's also a new flower called the endowbulb.
I also made a change to chorus trees, you can now find new plant life alongside these trees.
You can find new berry bushes, which give you a New berry called endrot berries. To harvest the bush, just use an empty hand 
and to grow them just use bonemeal.
A new flower can be found call the chorus orchid, they will emit light in dark areas.
Additionally growing on the trees will be the chorus Vines and when harvested well drop a gleaming chorus Berry. the Harvest them you need a pair of shears and with silk touch you can pick them up to take home.
The top of the trees are now made from chorus leaves instead of a block of chorus like before.
That's going to do it for the vegetation but now let's go over the new blocks.
New Blocks
Most blocks in this addon can become a slab or fence. Just put the block of your choice in a stonecutter to get your desired slab or fence.
I also added new tile variants for purpur, stonebricks, and endbricks Just put the appropriate block into a stonecutter to get it's tiled variant.
The purpur blocks has an additional chiseled variant that resembles a shulker.
I added new obsidian blocks such as pillars, bricks, and tiles. Additionally there's also a retexture for crying obsidian and regular obsidian to match the new blocks.
Smooth variants for purpur and obsidian I've also been added, to obtain those just simply stick the block you want to a furnace and smelt it.
In the end you will now find new Crystal Shards made from the crystal block, to obtain these you need silk touch. Periodically their texture will change color as well.
There's also new rocks you find around the land as well. Once you pick up a rock you will get an item and by interacting with a rock you will add more to the pile. The max you can get in one stack is 3.
That's going to do it for all of the new blocks, so now let's go over the world generation as that has changed a lot since the previous version.
The majority of the land will now be covered with chorus grass instead of End Stone. You will also find tall chorus grass scattered around.
Around the land, you will find Lakes. Around the Lakes you will find a new sand called chorusand and gravel.
If you're playing in the 1.17 beta then you will have access to brand new caves that can only be found in the end. Speaking of the beta, before loading into a world you need to select what version of generation you want. If playing in the beta you'll need to select the 1.17 generation, If you're in non-beta you need to select 1.16.220 generation.
To change this option, click on Behavior packs and click on the EndcreasedB behavior pack. You should see a gear icon, click on that the change the generation version. THIS IS IMPORTANT!
That's going to do it for the world generation so now let's go over a few smaller features that I added in.
First off I added a new armor set and tool set made from Endmethyst. They are crafted like regular armor and tools in Minecraft but with Endmethyst gems.
If you want to find any item or block from this addon then search "Endcreased".
Additionally there are three new music tracks you can hear in the background while traveling around in the end, big thanks to PureAmbientDrone for composing this lovely music. There's also a new music discs replacing music disc 11.
That's going to do it for all of the new features that are part of this new update, now let's get on to how you can install this. After you have applied the behavior back with your desired generation version go up two resource packs in there should be two. The first one should already be applied, apply the R2 pack on top of the main pack as shown in the image below.
The "Endcreased AddonR2" pack is used for the fences and nothing else. Even if you don't apply the pack, you will still get everything inside the addon. This is the final update to this addon, I had a lot of fun working on this for the past few years but it's time for me to move on to other projects.
For further information about the addon, I recommend watching these videos below:
Installation
If you want to review or make a video about this content, please credit me in the video or description!
DO NOT use your own link, use the proper link on MCPEDL!
If you wish to use this for your own world creations, please credit me!
DO NOT take ANYTHING from the addon without permission!
Supported Minecraft versions
1.16.100
1.16.220 (beta)
1.16.210 (beta)
1.16.201
1.16.200
1.16.101
Downloads
Information
Users of Guests are not allowed to comment this publication.