Furniture and Decorations Add-on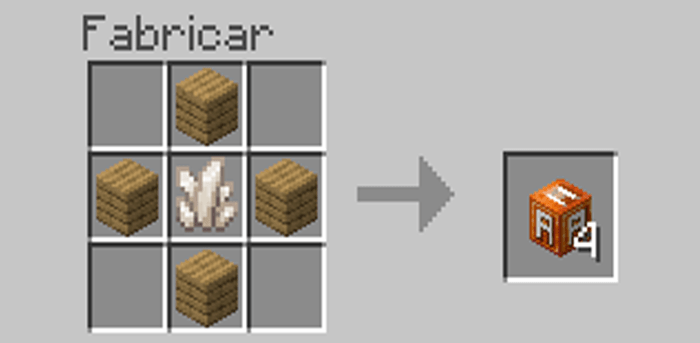 Addons for Minecraft PE
With this add-on add new furniture and decorations to your Minecraft, it works to decorate your house, all the furniture are blocks with 3D models and can be manufactured in survival mode.
Warning:
This add-on was published on MCPEDL.COM, it is not allowed to publish this add-on on other websites or applications of Minecraft Addons without the permission of the creator.
If you will review this add-on for youtube leave credits, put the download link from mcpedl and not put the direct download link or create your own download link or you will receive a complaint.
This add-on adds furniture and decorations and only works if you have Minecraft version 1.16.100 or 1.16.200 up, you can get them in survival mode by making this block: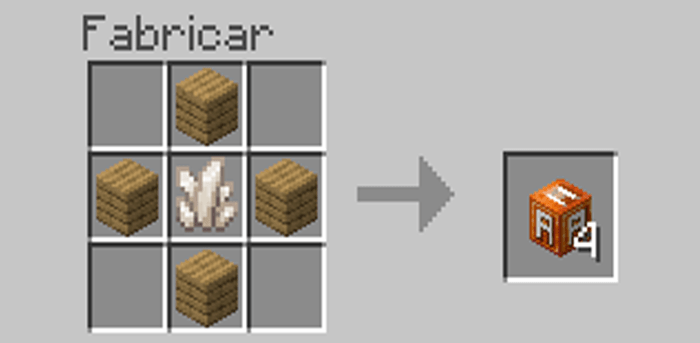 When you have created the block place it in a stone cutter and there you can make the furniture you want.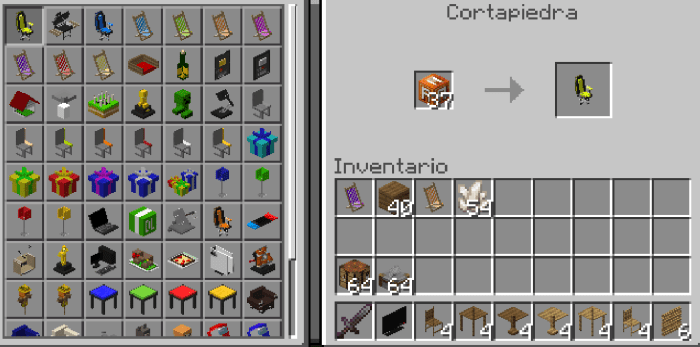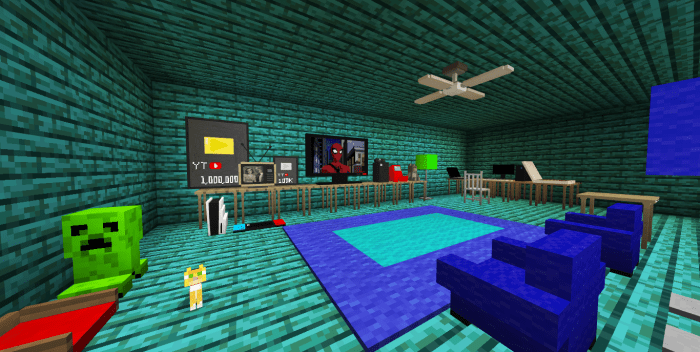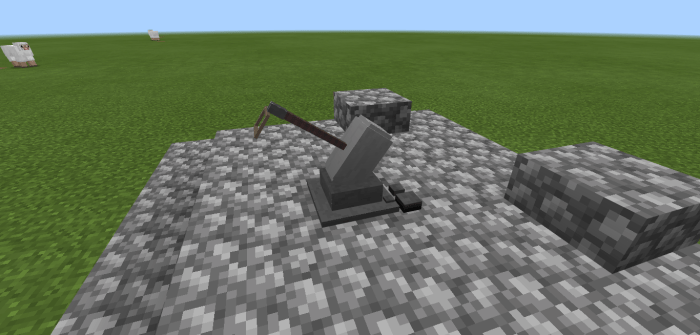 List:
Cat bed
Wine bottle
Dog House
Chair
Workshop chair Blue
Workshop chair Yellow
Workshop chair Red
Workshop chair
Creeper Cake
Thor's hammer
Old TV
Cooked pork
PC
Stuffed bear
TV
Snowman
Table
Chair (Rotate)
MCPEDL Lamp
Creeper Lamp
Laptop
Grill
Gold Youtube plate
Silver Youtube plate
Reactor Arc of Tony Stark
Plush toy from Among Us Red.
Plush toy from Among Us Blue.
Plush toy from Among Us Green.
Plush toy from Among Us Yellow.
Plush toy from Among Us Pink.
Xbox Series X
Nintendo Switch
PS5
Lamp Blue
Lamp Green
Lamp Yellow
Lamp Red
Sofa brown
Sofa white
Sofa dark blue
Ceiling fan.
Ceiling lamp.
Pizza.
Acacia table
Birch table.
Dark oak table.
Crimson table.
Jungle table.
Oak table.
Spruce table.
Warped table.
Acacia chair
Birch chair.
Dark oak chair.
Crimson chair.
Jungle chair.
Oak chair.
Spruce chair.
Warped chair.
Acacia table 2
Birch table 2.
Dark oak table 2.
Crimson table 2.
Jungle table 2.
Oak table 2.
Spruce table 2.
Warped table 2.
Dark oak curtain.
Crimson curtain.
Jungle curtain.
Oak curtain.
Spruce curtain.
Warped curtain.
Blue gamer chair.
Red gamer chair.
Orange gamer chair.
Green gamer chair.
Yellow gamer chair.
Toy Steve.
Toy Alex.
Toy Slenderman.
Toy ArathNido.
Dining chairs Yellow.
Dining chairs Red.
Dining chairs Light.
Dining chairs White.
Dining chairs Gray.
Dining chairs Yellow.
Dining chairs Orange.
Red beach chair.
Purple beach chair.
Orange beach chair.
Blue beach chair.
Green beach chair.
Pink beach chair.
Yellow beach chair.
Gift (White/Red).
Gift (Cian/Blue).
Gift (Yellow/Green).
Gift (Red/Yellow).
Gift (Blue/Purple).
Gift (Blue/White).
Gifts.
Scarecrows.
Scarecrows (Happy).
Desk lamp.
Oscar trophy.
Creeper trophy.
Stone road.
Red Christmas stocking.
Blue Christmas stocking.
Green christmas sock.
Red christmas candy block.
Blue christmas candy block.
Green christmas candy block.
Christmas wreath.
Christmas tree
United States Flag
Brazil Flag
Mexico Flag
Canada Flag
Venezuela Flag
Ecuador Flag
Olympics Flag
Russia Flag
Argentina Flag
Spain Flag
Photo frame (Wolf)
Photo frame (Old Pigman)
Wet floor signal
The lamps include lighting.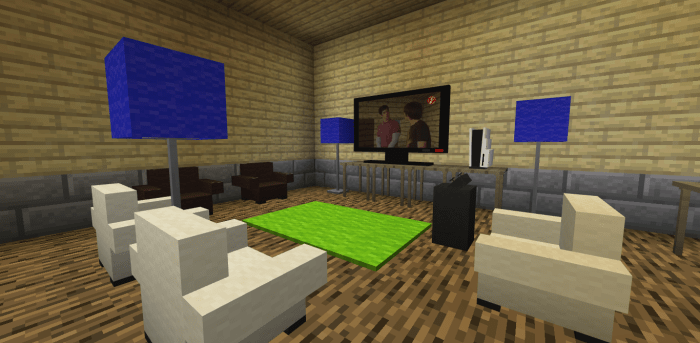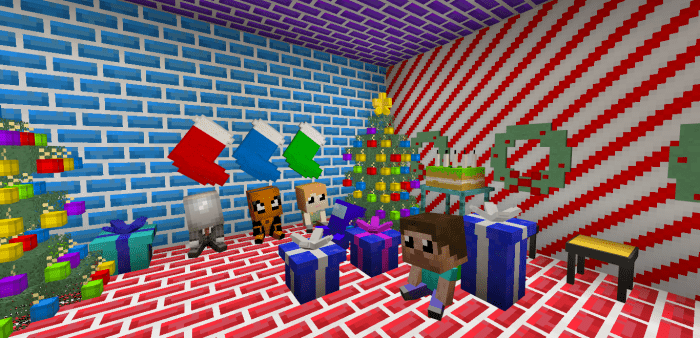 Flashlights with interaction:
The mcpedl flashlight and creeper flashlight can interact to turn the flashlight on and off, no redstone mechanism required, you can interact by touching it.
Interact:
Windows 10: Right click.
Mobile: Touch block.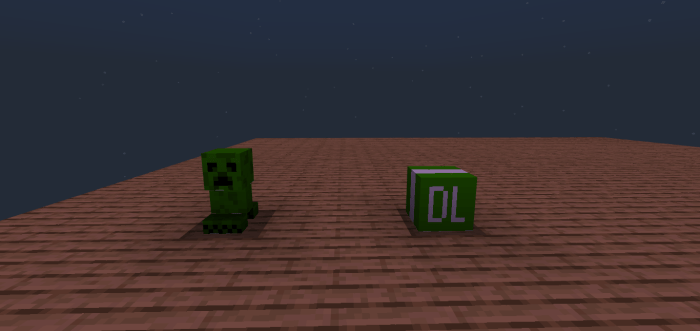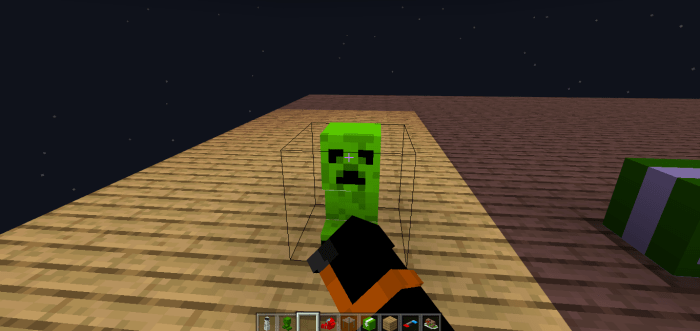 Television and old television:
You will be able to interact with a TV to change image, having a TV on is going to produce illumination.
To interact:
Windows 10: Right click.
Mobile: Touch TV.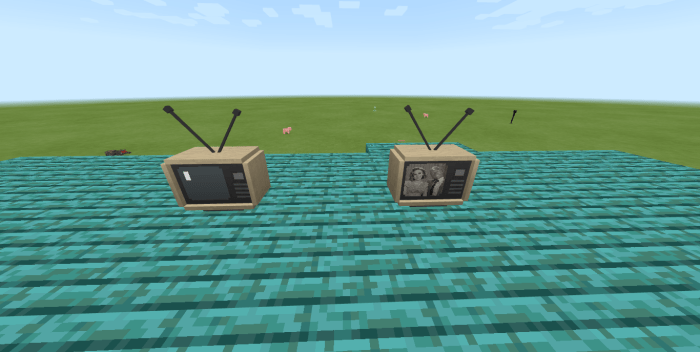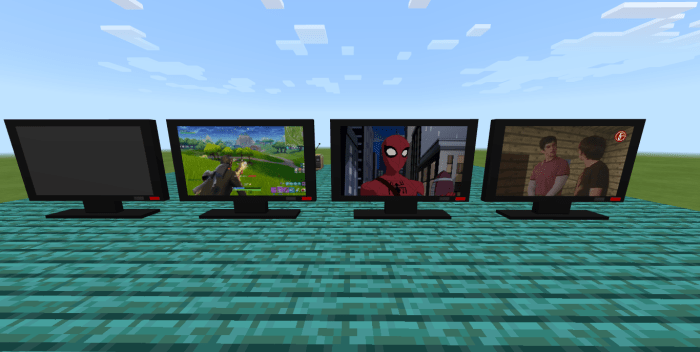 Pizza:
You will be able to open and close the pizza box.
To interact:
Windows 10: Right click.
Mobile: Touch TV.
Wooden chairs, curtain and tables:
For wooden chairs, curtain and tables are created using these recipes: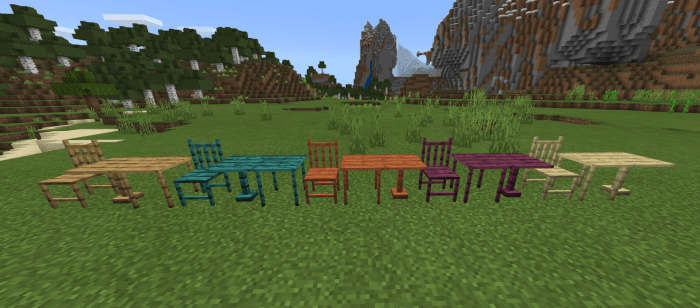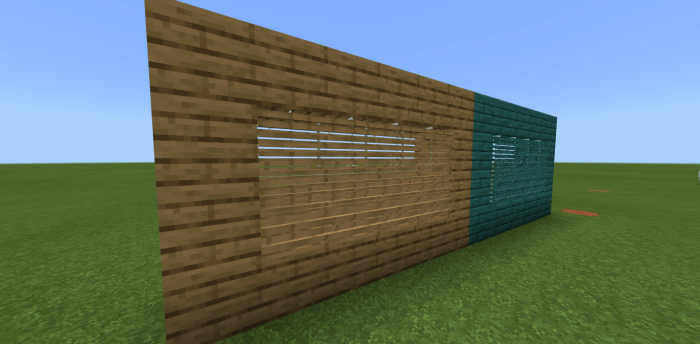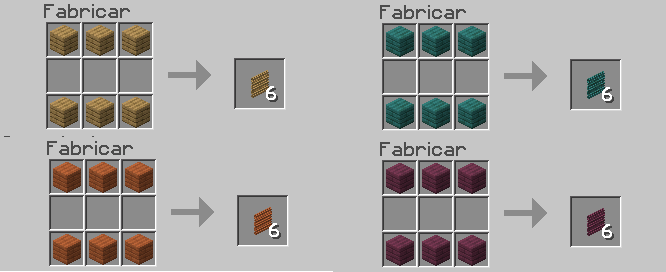 You can make blocks of colored bricks: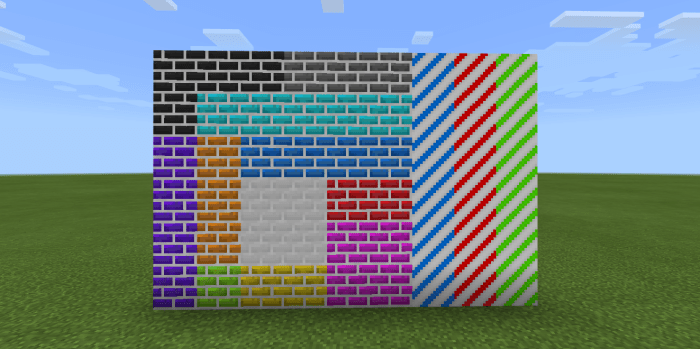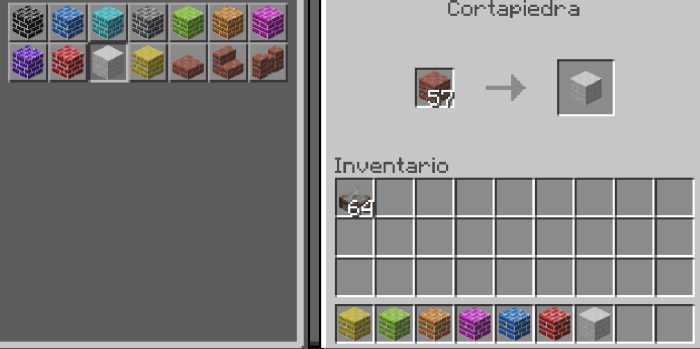 Country flags added:
United States
Brazil
Mexico
Canada
Venezuela
Ecuador
Olympics
Russia
Argentina
Spain
Installation
Download Resources .McPack.
Download Behaviors .McPack.
Apply the packs for a world.
Enable "Experimental Gameplay" in the world settings
Create the world.
Supported Minecraft versions
1.16.100
1.16.210 (beta)
1.16.201
1.16.200
1.16.101
Downloads
Information
Users of Guests are not allowed to comment this publication.