TREE'S Generator V1 (1.16.100 & 1.16.201)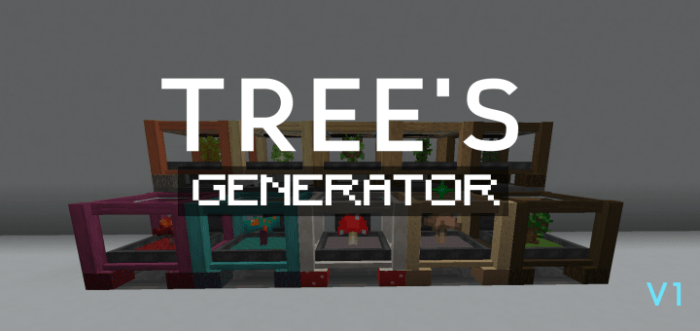 Addons for Minecraft PE
This addon add 10 New Generator for your survival word.
All Generator are Oak Tree Generator, Dark Oak Tree Generator, Birch Tree Generator, Jungle Tree Generator, Spruce Tree Generator, Acacia Tree Generator, Warped Tree Generator, Crimson Tree Generator, Brown Mushroom Generator, and Red Mushroom Generator.
Hopefully This addon make your survival experience better.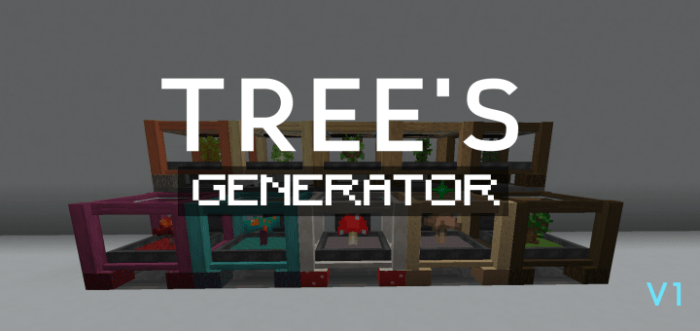 This addon add all tree Generator that generate all tree's related item from log, leaves, shroomlight, apple, etc.
List Of All Generator and it's loot:
Oak Tree : Oak Leaves, Oak Log, Apple.
Dark Oak Tree : Dark Oak Leaves, Dark Oak Log, Apple.
Birch Tree : Birch Leaves, Birch Log.
Jungle Tree : Jungle Leaves, Jungle Log.
Spruce Tree : Spruce Leaves, Spruce Log.
Acacia Tree : Acacia Leaves, Acacia Log.
Warped Tree : Warped Stem, Warped wart block, Shroomlight.
Crimson Tree : Crimson Stem, Netherwart Block, Shroomlight.
Red Mushroom Tree : Red Mushroom.
Brown Mushroom Tree : Brown Mushroom.
All generator is craftable on survival you can find it in workbench. So dont forget to craft workbench first.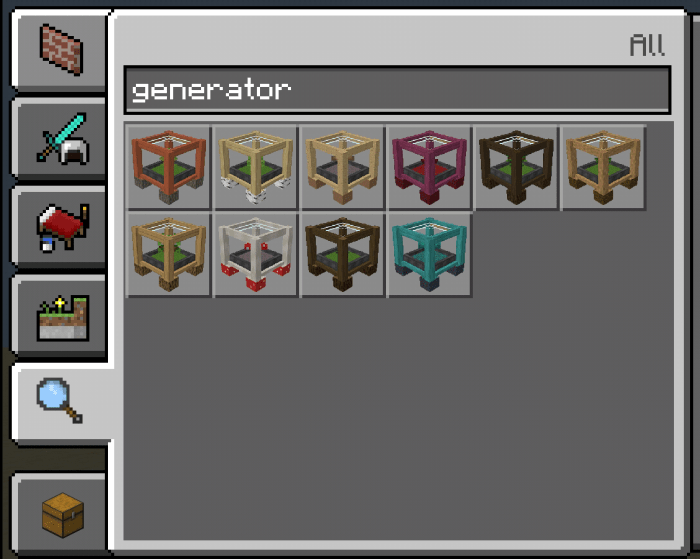 IN-GAME SCREENSHOT :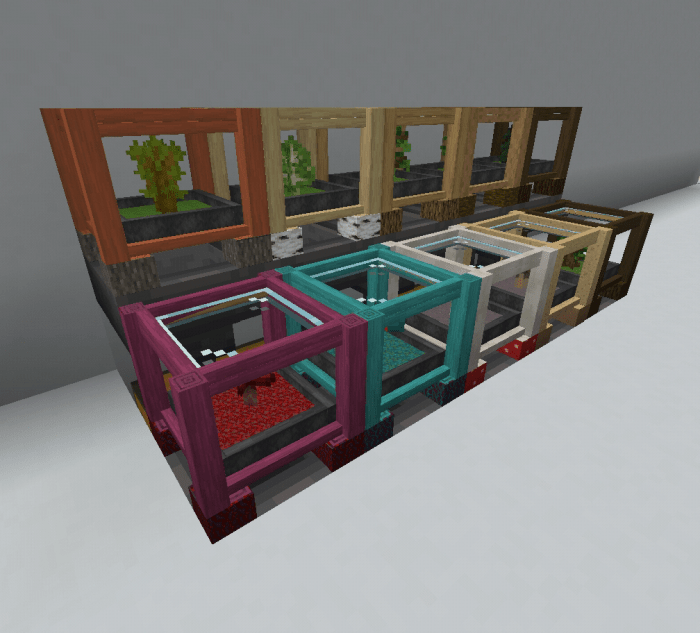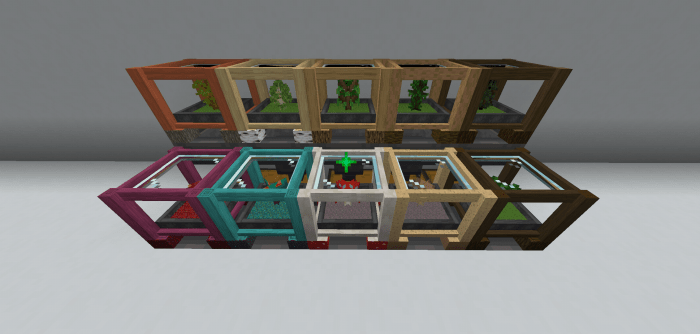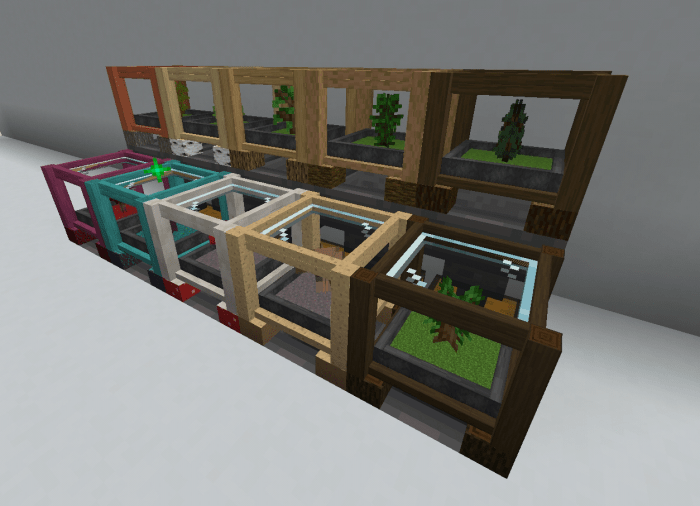 RETEXTURED VERSION: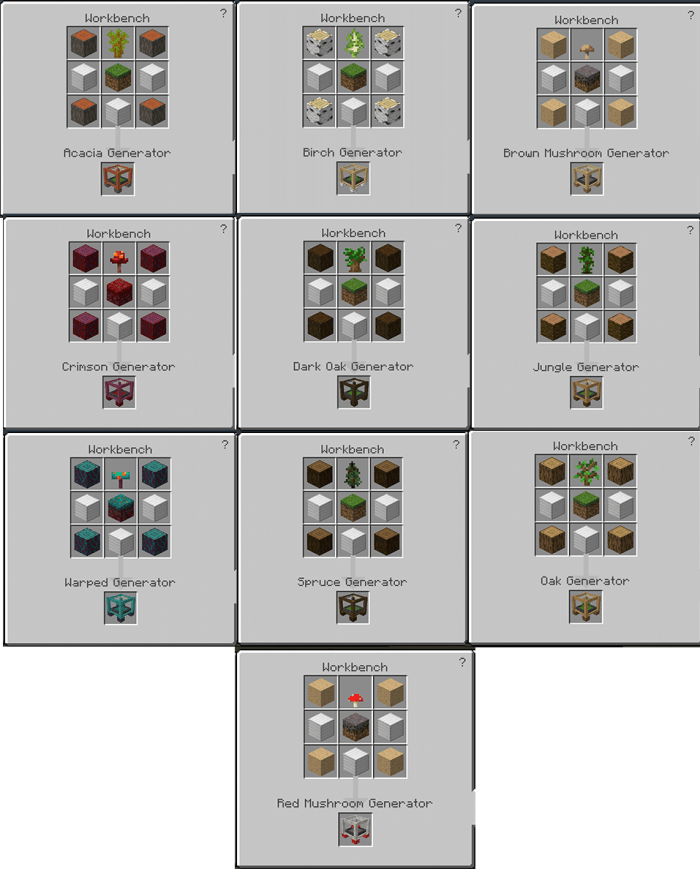 You can use hopper to collect drop from generator.
If you had any question or sugesstion feel free to leave a comment.
Installation
TERMS OF USE:DON'T POST THIS ON OTHER SITES OR ADDONS LAUNCHER WITHOUT MY PERMISSION.
DON'T SHOWCASE THIS ON YOUTUBE WITHOUT CREDITS TO ME OR CLAIMING THIS AS YOUR OWN AND IF YOU DO SHOWCASE THIS PLEASE DIRECT THEM TO MCPEDL DON'T CREATE MONETIZED LINKS AND EARN FROM THIS.
Turn On:- Holiday Creator Feature
Supported Minecraft versions
Downloads
Information
Users of Guests are not allowed to comment this publication.